In the UAE, all lifeguards are required to go through an accredited first aid training course before earning their lifeguard certification. But did you know, first aid training courses aren't just for lifeguards? In fact, first aid training courses increase confidence and provide faster emergency response times among employees, helping to keep a safer environment for any company!
Here at Blue Guard, we take pride in offering high-quality first aid training for not only our professional lifeguard students, but also to the general public. It's our goal to provide the public with the skills and knowledge needed to keep their family and peers safe in emergency situations.
Why should you consider taking a first aid course with Blue Guard? Let us tell you!
First Aid Training Saves Lives!
It seems like a no-brainer, but knowing basic first aid skills stopping the bleeding from a large laceration, or performing cardiopulmonary resuscitation (CPR) can save a life! In fact, over the past 40 years, the global survival rates of patients experiencing an out-of-hospital cardiac incident have increased, especially among individuals who have received CPR from a bystander. Why is that? Because the increase in education and training has helped innocent bystanders effectively respond to emergencies in a timely manner.
Emergencies happen when we least expect it, so having the skills to provide life-saving care to someone can be helpful when you're doing something as simple as shopping in the supermarket or taking a walk in the park. Who knows, maybe you will be one of those bystanders who ultimately saves someone's life or the life of their loved one.
Learn How to Use a First Aid Kit Properly
Sure, it's important to know where the first aid kit is located in the event of an emergency. But do you know how to use it, especially when you're under pressure? First aid kits are often filled to the brim with the necessities like band-aids, gauze, scissors, tweezers, sterile gloves, and ointments. But which do you use first? All of these essential details, including how to start by protecting yourself with personal protective equipment (PPE), can be learned in one of our first aid training courses.
In addition to learning how to use the first aid kit, you'll also learn things like:
The responsibilities of a first aid responder

How to assess the situation

How to treat a minor injury

What to do if the injuries are beyond basic first aid

How to prevent further injury
Knowledge of First Aid and CPR Increases Workplace Safety
When everyone in the workplace is trained in First Aid and CPR, the workplace becomes a safer environment. As a team, employees equipped with proper first aid knowledge will not only work together during an emergency, but they will also come together to prevent accidents from happening in the first place! Fewer accidents will happen when the team preventatively makes small changes like centrally locating a defibrillator, removing tripping hazards, and making sure sharp/dangerous objects are adequately secured. However, when the unthinkable happens, workplace team members will be trained with the tools and skills they need to respond to an emergency situation.
Did someone say, team? Attending First Aid and CPR training courses with a group of peers is also an excellent team-building exercise. First Aid and CPR training provide an excellent opportunity for your employees to face adversity and to be challenged in a controlled setting. It also allows participants to overcome obstacles while correctly preparing them for real emergencies. Additionally, learning the skills and tools for the workplace help to increase workplace morale.
First Aid Training Course With Blue Guard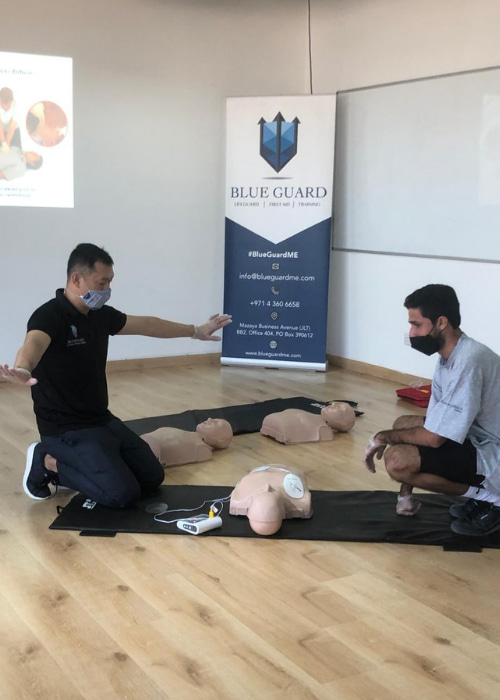 At Blue Guard, we provide various levels of first aid and CPR training for lifeguards and non-life guards alike, including:
At Blue Guard, our First Aid Training Courses are designed to provide local facilities, municipalities, and the general public with the knowledge to provide lifesaving care and general first aid during an emergency situation. Designed with the student in mind, our innovative courses are reputable, professional, and informative.
If you're interested in signing up for a first aid training course, contact a member of the Blue Guard team today!